Welcome to Ashima Mehta Matrimony
We've always heard that marriages are made in heaven, but Ashima Mehta has made heaven on Earth today for most of her clients.
Being gifted in her ability to identify and make the most suitable matches , her confident and sincere work approach is sprinkled with a lot of positivity.
When two souls are made for each other, all barriers of caste and religion are immaterial.
Ashima Mehta has an extensive network of suitors all over India as well as abroad and has made successful matches all over the world , including the USA, UK, Canada, Australia, Singapore and Dubai, to mention a few.
She caters to all age groups, irrespective of previous marital status.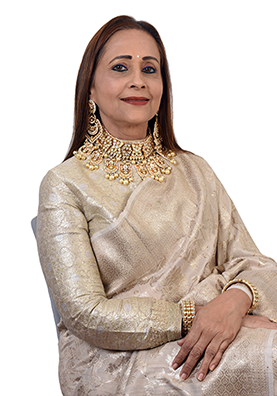 Hi, I'm Ashima Mehta
Your matrimonial expert from South Mumbai!
I provide comprehensive matrimonial services for both, the domestic as well as the international Indian community. I cater to all types of profiles, caste and community irrelevant!
I have built my entire Matrimonial Community on these lines, and I have a no-tolerance policy for discrimination.
My clients often ask me the secret to my success in the field of Matrimonial Harmony, and my answer has always remained the same:
Pin-to-Piano service until Goldhana with guidance at each step.
Study each profile with a keen eye for detail.
Building a strong rapport with and between both sets of parents.
Some information may seem rude and intrusive to obtain directly by parents and thus create disharmony in a budding relationship . I play mediator at these crucial junctions .
I make the more desirable characteristics of each client evident to ensure minimal rejections.
I INSIST on a zoom meeting/ phone calls between prospective suitors before they form an opinion or reject each other.
Ensure complete TRANSPERANCY between clients.
My strong intuition enables me to nudge clients in the right direction .
I give each profile personal attention.
Why Choose Me

Trust

Service

Professional touch

Success

Goodwill
Testimonials
When my family first engaged Ashima Ben, we were pleasantly surprised by the personal touch she brought into this process. She clearly understood what we, as a family, were looking for and combined with her excellent match making ability, was able to bring the proposal of Sanaa to us. The ease at which we were able to take such a monumental decision is a testament to her efforts behind the scenes.
Anonymous
As parents we started the very difficult process to find a suitable groom for our daughter, we found in yourself a very understanding and mature match maker who understood deeply our expectations and suggested us a very suitable boy and a nice family, Ashay happened to be the first boy we saw for our daughter and ultimately with your co-ordination efforts of a couple of months the match was finalised and they embarked on a beautiful journey of togetherness. Your very name symbolises their relationship " Ashima " means Ash + Hima which can be the hashtag derived naturally ! You have made a very difficult task look so easy for us due to your convincing abilities and co-ordination between both our families ! Thank you one again and shall always appreciate your effort.
Anonymous
Hello Aunty
It was a pleasure knowing you and more so the good natured person in you!
Thank you very very much Aunty
Anonymous
It was indeed my pleasure to come across Ashima Aunty in helping me find my match and it gives me immense joy that Nirali and I are going to get married this coming March! A Big Thank you to Aunty for her effort in understanding the person i was looking for and also guiding me in the process and more importantly giving her open and honest inputs and taking timely updates about how things were panning out and really appreciate that aspect of hers I haven't met her in person but have spoken over the phone and some day would definitely want to thank her in person and seek her blessings for this new, wonderful chapter of my life of which she became an integral part! Thank you for everything Aunty!!
Dr. Vidit
Ashima ben takes a personal and keen interest in helping find the right partner. She is extremely hard working and dedicated in what she does. She is very supportive and always goes the extra mile to help us out.
Anonymous
I came to know about Ashima ben and her services through a family member. In my first call to her she explained her working style and made me very comfortable. The registration process too was simple. After seeing my son 's profile she asked me many questions to understand our requirement n preferences. She continuously sent me bio datas of girls as per that. She gave a wide choice and told me about the backgrounds of girls, guided me abt how to conduct initial talks with parents. She kept in continuous contact and followed up with girls' parents too. She was never pushy but her advice was practical n always made me feel that she is a true well wisher. She was even ready to participate in meetings. We found a nice girl from a good family through her efforts. And cant thank her enough for that. I will definitely recommend her services to others. I wish Ashima ben the very best n may her work lead to many more happy marriages!
Anonymous
I m glad to share that my daughter found her perfect match through Ashimaben
Really thankful to her service & assistance she provides ….
Sincerely appreciated 👍
Anonymous
Contact
Contact Us
Your message was sent, thank you!